Residential No Sanding Wood Armor
Are the worn out hardwood floors in your home in need of a little sprucing up? We have the perfect solution for you! Sir Grout Charlotte, the leading expert in tile and grout care and restoration, has aimed its lance at another enemy - dingy looking hardwood floors - using Wood Armor, a highly effective no sanding, wood floor renewal process. This unique and inexpensive application is designed to restore and refresh hardwood floors showing visible signs of wear.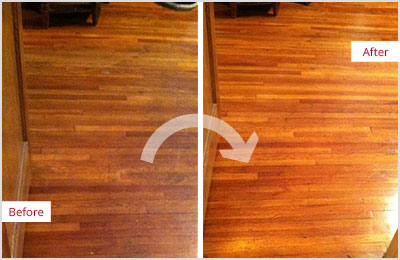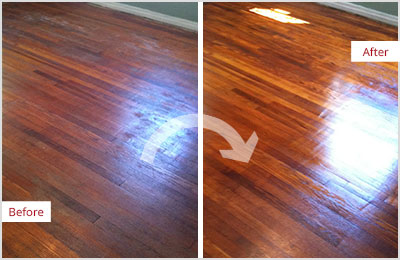 Running at about half the cost of most traditional programs, a wood floor is first evaluated to ensure it's a good candidate for Sir Grout's Wood Armor process. The floor is then machine cleaned to remove any embedded dirt. After the surface is properly prepped, either two or three coats of finish-- semi-gloss or matte-- are applied. The final coat of Wood Armor takes approximately one hour to dry, and your floor may be walked on in stocking feet immediately after drying. Many times furniture may be replaced the same day.
If you want to transform the wood floors in your home from dirty to clean, contact Sir Grout Charlotte to set up an appointment today. To see for yourself just how much our no sanding, wood armor process can improve a room's appearance, take a look at the picture below.
Click on the link below for information about the other
Residential Wood Services
we offer:
Residential Services
: