Our Grout Sealing Process Completely Revamped This Well-Worn Shower in Weddington, NC
July 16, 2018
Since ancient times, ceramic tile has been a popular design feature because of its versatility, durability, and elegance. It is highly praised for its astonishing longevity, sleek appearance, and ease of maintenance, which makes it suitable for all sorts of applications while adding value and style to the house. It is the perfect solution for homeowners who want a clean, modern look with as little upkeep as possible. It's widely used for kitchens and bathrooms. However, despite being durable and easy to maintain, it still requires proper care in order to stay in radiant shape for many years of wear and tear. No matter how glistening and shiny your ceramic tiles might be, dirty or moldy grout will make the entire surface look sullied and unkempt.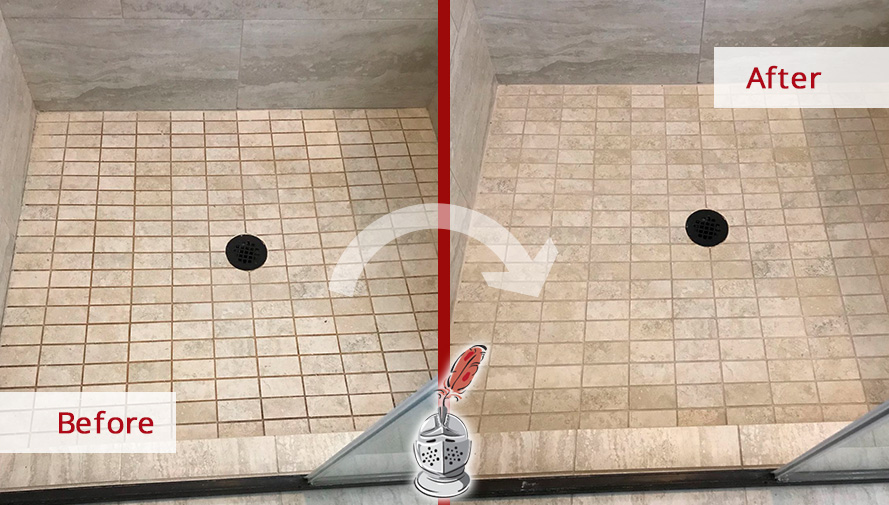 Grout is used to tighten the tiles, keep the water from leaking into the walls, and provide a finished look to the tiled surface. Nonetheless, grout is a porous substance that easily absorbs dirt, moist, and harbors bacteria. For this reason, it is prone to staining, soiling, and mold growth. Sealing the grout is imperative to help prevent discoloration and staining, all while aiding the ceramic surface. The sealing process is a difficult task that requires expert and skillful hands. Therefore, the best option for this endeavor is to hire a professional
grout sealing company in Weddington, NC
.
Our next clients, young twin sisters from Weddington, NC, were having a hard time with the maintenance of their shower. Performing cleaning chores around the house was never an issue for them. They always tried to keep their home clean and spotless no matter how busy they were. During a routine cleaning session, they noticed something strange on the shower. The grout lines remained dirty in spite of their best effort to clean them, and the ceramic tiles looked dingy and dull. The young women kept washing and scrubbing, but the condition of the surface didn't improve. They were not pleased with the unsightly appearance their shower had and decided to look for ways to solve the problem.
After reading some home improvement magazines and searching online, they found some methods that claimed to be useful for cleaning dirty grout lines. As instructed in the guides they found, they applied a baking soda paste to the stained grout and after letting it sit for a while, they began scrubbing with a toothbrush. Unfortunately, when they finished, the condition of the grout lines hadn't improved. Luckily, they decided to call their mother who was a former Sir Grout Charlotte client. She knew exactly what to recommend to her daughters.
They explained the problem and she told them it was similar to what happened to her floor. She was able to restore her floor with our professional assistance so she immediately recommended checking out our website to get more information and contact us. The young women followed their mother's advice and went online to browse our site. They carefully went through it and our
picture gallery
caught their attention. The pictures showcased the quality of our work and the results we provided. They were immediately impressed with the transformation the surfaces we worked on had received. After reading the comments from previous satisfied clients who certified us as a leading company in hard surface restoration, they decided to schedule a free in-home consultation by filling out a "Request a Quote" form.
A few days later, we arrived at their house to perform the evaluation of the shower and to offer the most effective solution for the problem. They greeted us and after the introductions, we proceeded with the assessment of the surface. We noticed the grout lines on the floor were discolored, cracked, muddy, and moldy. The joints on the walls suffered from the same issues and the tiles were dingy and dim. This was caused by improper cleaning methods and the usage of harsh products. Also, the absence of sealant allowed water, dirt, grime, and soap scum to seep deep into the grout, causing mold and mildew to grow. When this happens, the grout lines would remain stained no matter how much they washed them because the dirt and grout had essentially become one. The shower required our professional expertise to be restored.
We offered a grout sealing service to clean and restore the grout lines using our proprietary products and advanced techniques. We would use our top notch sealant, ColorSeal, a one of a kind product that would protect the grout against water, stains, mold, and mildew. We would also perform any repairs necessary on the grout lines. To finish, we would buff the tiles using TileArmor, a non-toxic solution that grants an extra layer of protection to the tiles and ensures long lasting results. We assured the owners that after we finished our work, their shower would look clean and spotless. They were pleased with our assessment, and after hearing we could solve their problem, they immediately agreed to set up a date for the job.
We returned to our clients' house on the set date, ready to begin the grout sealing process. It was a multi-step procedure that required the most skillful techniques and high quality products:
We cleaned the walls and floor using our pH-neutral tile and grout cleaner with a gentle, high-speed scrubber. This product is soap free and safe for the tiles and grout. It won't leave any residue that could be absorbed by the grout lines and won't stain or discolor the tiles. This step was done until the surface was free of dirt and grime.
We cleaned all the grout lines using a high temperature steam cleaner. This removed the mold from the environment and left the shower healthy and clean.
We performed all the necessary repairs on the grout lines using our professional tools and techniques.
We sealed all the tiles and grout with our top quality ColorSeal. This state-of-the-art sealant not only enhances the look of the surface, it also provides an extra layer of protection against all external agents for a long time. We applied the sealant on the shower's floor and walls until it was completely protected.
We buffed the tiles with our exclusive and unique TileArmor. This would shield the surface against damages in the future and would make cleaning routines easier and faster.
When we completed all the steps, the shower had been renewed. It had a clean and refreshed appearance with no traces of stains or mold. The grout lines looked pristine and had a uniform color, thanks to our top tier sealant, and the tiles recovered their natural beauty. This remarkable restoration could have only been accomplished with our professional and experienced work and our exclusive products.
We invited our clients to see the results. The young women were impressed with the renovated appearance of the shower; they couldn't believe how good it looked. They were happy to see that all the dirt was finally gone from the grout lines and the sullied look had been removed from the surface. They were amazed by the quality of our work and after thanking us, they said we had become their company of choice for hard surface restoration, and from that point on, they would recommend our service to all their friends, family, and neighbors.
We provide our clients the best solution for their problem and guarantee long lasting, easy to maintain results. We also take time to train them on how to perform proper maintenance and keep their restored surfaces in top condition for a long time. Before we left, we gave the young women some recommendations and suggestions to make cleaning routines faster, easier, and effective:
Try not to use bar soaps. Soap scum that builds up on tile and grout is the result of bar soap residue that has re-hardened on the surface. Not using these soaps would greatly reduce the accumulation of soap scum in the shower. It is recommendable to use gel soap because it won't leave any harmful residue on the tiles and grout.
Use safe, pH-neutral, soap free cleaners, which are harmless for the grout because they don't leave any sticky residue. Soap-based cleaners leave a film that seeps deep into the grout lines, promoting mold and mildew growth. Acidic cleaners, on the other hand, are harmful and can discolor the grout and break it. These types of cleaners should be avoided.
Keep the bathroom well ventilated and dry. Since a dark, damp environment is perfect for growing mold, mildew, and germs; the shower has to be left as dry as possible after using it. Dry the surface using a squeegee, a towel or a terry cloth. Squeegeeing is a great choice to prevent soap scum buildup. Also, to reduce humidity, leave the doors or windows open for an hour.
These easy to follow steps and our advanced techniques and products would maintain the shower in great condition for years to come.
At Sir Grout Charlotte we have the solution for your hard surface restoration problems. It is possible to restore even the dingiest, oldest shower to its prime days with our professional help. We provide experienced and qualified grout sealing services which will give your shower a brand-new look. As a leading company in the hard surface restoration industry, we offer the most effective techniques to help you. Don't hesitate to contact us by calling
(704) 626-6866
or by filling out our "Request a Quote" form for a free in-home consultation. We will be happy to attend you. Also, be sure to subscribe to our
newsletter
to receive our latest info and promotions.
If you found this article helpful then let us know in the comments section below. Likewise, feel free to share it using the share options below. Want us to cover another topic of your interest pertaining to Hard Surface Restoration? If so, then like us and follow us on social media, and post to any of our social media profiles the topic you'd like us to discuss:
Facebook Sir Grout Charlotte
,
Instagram @sirgroutcharlotte
, and
Twitter @SirGrout
.