Welcome to the living rooms category for the Sir Grout Charlotte Blog. Here you'll find blog posts related to living rooms with stone, tile, and wood surfaces that we've restored. See the amazing transformations with the included before and after pictures. Feel free to share and leave your comments.
Published December 20, 2021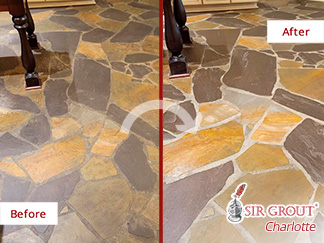 This Slate Floor Goes Through a Complete Transformation Thanks to Our Weddington Stone Cleaning Crew
A resident of Weddington, NC, contacted our stone cleaning specialists to work through the marks imprinted on his home's slate floor. The surface looked dull from all angles, with serious scratch marks that only our special equipment could remove.
READ MORE