Grout Sealing: Providing Flawless Bathroom Renovation in Mooresville, NC
June 05, 2018
Often praised for its durability and variety, ceramic tile is a popular choice for bathroom finishes. Despite the fact that ceramic tile installation is a centuries-old practice, it hasn't decreased in popularity. Due to its versatility, it can be used in a wide range of environments without having to worry about water, stains, and other damages. However, since ceramic tiles are very hard, cleaning and maintaining them can be cumbersome, and even though they are resistant to damage, stain, and water, the lines between the tiles are still vulnerable. The grout in the lines is a type of porous substance. For this reason, it's important to seal it in order to prevent any damage from occurring. Unsealed grout can be corrupted by moisture and humidity; this can cause discoloration and trigger the formation of mold and mildew. To avoid this situation, the best option is to hire a professional
grout sealing service in Mooresville, NC
.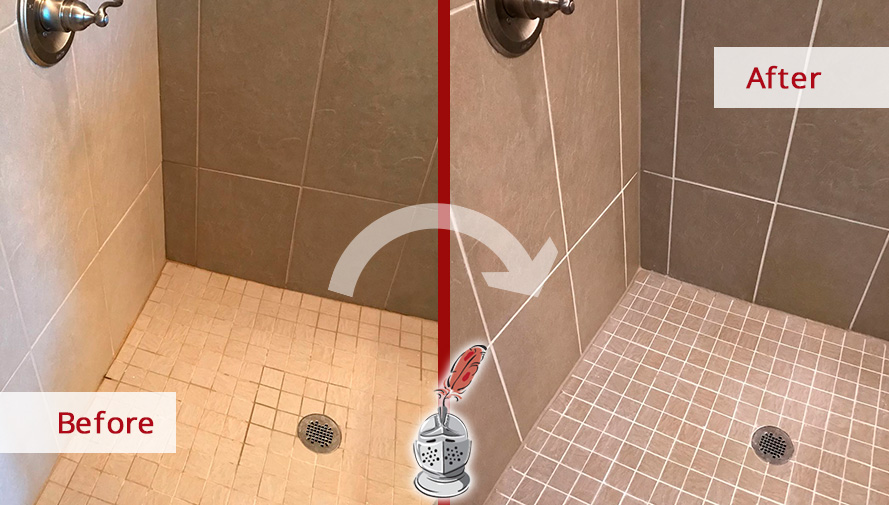 Our next clients, three young women living together in Mooresville, NC, were having some trouble with the maintenance of their bathroom. The ceramic tiles in the bathroom had always looked spotless, the roommates never missed a cleaning routine, and they had a strict schedule for the household chores, which they followed to the letter. Nevertheless, they noticed a negative change in the appearance of the bathroom's tiles, especially in the shower's floor. The grout lines looked discolored and muddy, as if they were full of dirt and grime. Even with their rigorous cleaning habits and schedules, the surface had suffered damage from daily wear and tear. They decided to band together and tackle the issue once and for all.
The next weekend, they gathered in the bathroom for a special cleaning session. One of the roommates found some DIY cleaning methods online and brought some vinegar, baking soda, and some acidic cleaners. They began cleaning and scrubbing the tiles and grout lines as explained in the methods they found. The chore took almost all day, and unfortunately, they didn't achieve any significant changes. The roommates were in a difficult position.
After discussing and weighing their options, they decided that the best solution was to look for professional assistance. They went online and searched for experienced grout sealing service in Mooresville, NC. In the search results, they found Sir Grout Charlotte. They began to carefully browse our site and our "Before and After" gallery caught their eyes. They thoroughly checked out the pictures and were immediately impressed with the results we achieved. After reading the comments from previous satisfied clients who certified us as a leading company in hard surface restoration, they decided to schedule a free in-home consultation by filling out a "Request a Quote" from.
A couple of days later, we arrived on the scheduled date for the bathroom's evaluation and to offer the most effective solution for the problem. They were expecting us, and we immediately began the assessment of the bathroom's condition. We noticed the grout lines were dirty, moldy, and cracked. The joints between the shower's walls and floor were in dire condition; they were affected by mold and mildew and had a sullied appearance. Also, the grout lines in the bathroom's floor were discolored and had a dingy appearance. We explained that this was caused by daily wear and tear, and that even bar soap can leave residue that can cause harm to the grout.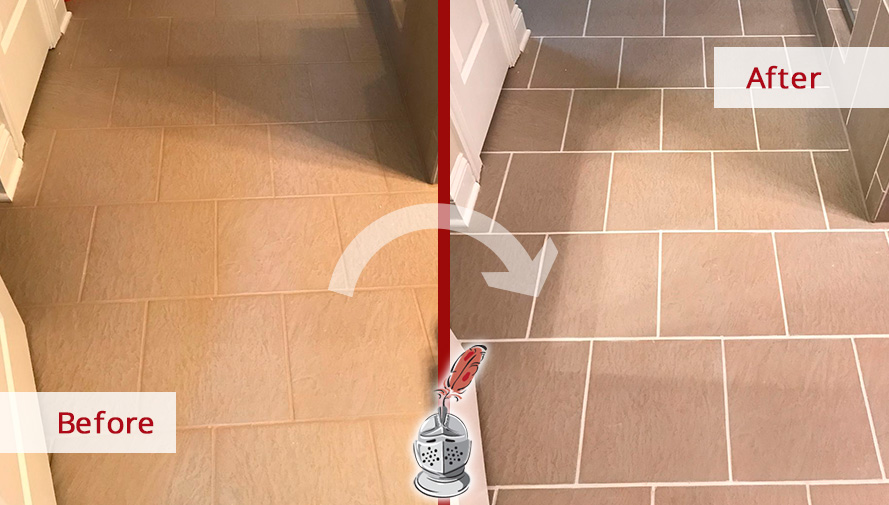 The bathroom required professional care and maintenance. We offered them a grout sealing service to clean and seal the grout and protect it against all damage. We told them that sealing the grout in a damp and moist environment, such as a bathroom, is very important because unsealed grout is exposed to water, dirt, and soap scum left by cleaners or bar soap residue. We would use our advanced techniques and products to solve all the bathroom's problems. We would seal the grout using our high quality sealant, ColorSeal, a top of the line product that would protect the grout lines against water, stains, mold, and mildew for years to come. They were satisfied with the solution we proposed and briefly agreed to set up a date for the service.
We returned to our clients' house on the appointed date to begin the grout sealing process. It was a thorough procedure that required the most advanced techniques and consisted of several steps:
Using our pH-neutral tile and grout cleaner with a gentle, high-speed scrubber, we cleaned the walls and floor. The product we used is safe for the grout and won't discolor or stain the tiles. It is soap free so it won't leave any residue that could seep into the grout lines. Also, it won't crack or peel the grout.
Using a high temperature steam cleaner, we sanitized the environment. When this was completed, we got rid of the mold and mildew and we left the bathroom fungi free.
Cleaning the old, dirty, and muddy grout and performing the necessary repairs. We painstakingly worked on the shower's floor and walls and then on the rest of the bathroom until there was no trace of grime left and all the grout lines were spotless.
Sealing the grout lines with our top-notch and exclusive ColorSeal. This high quality sealant blocks the absorption of water and shields the grout lines against dirt, grime, and soap scum, thus preventing the growth of mold and mildew. It also enhances the look of the grout lines by giving them a uniform color and a pristine appearance. It comes in a variety of colors and we used the one desired by the owners.
We thoroughly performed all the steps until the bathroom was completely restored. When we finished our work, the tiles and grout lines looked flawless and spotless. The bathroom regained its brand-new appearance and it had a refreshed, alluring atmosphere. This level of restoration could only be achieved with our experienced techniques and procedures and our top tier, unique products. Our skillful process and expertise, as well as our state-of-the-art products, ensure long lasting, easy to maintain results.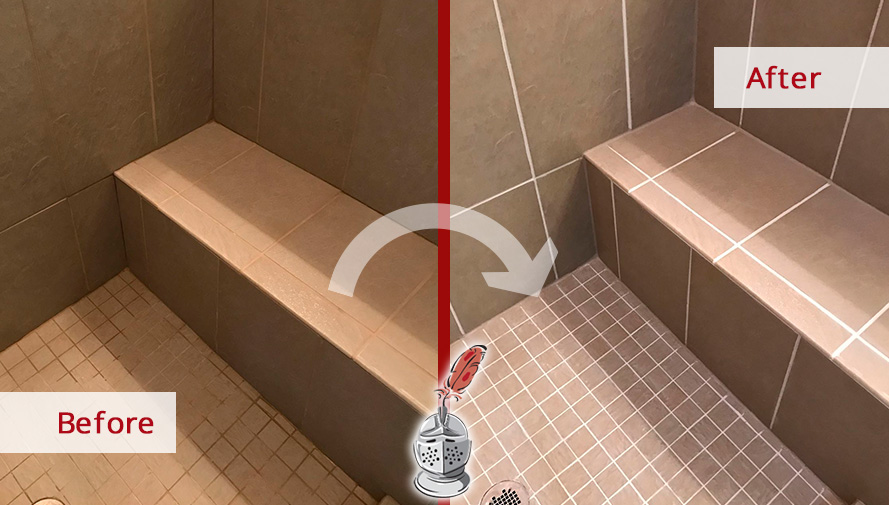 We invited our clients to see the outcome of our work. They were amazed by the results and couldn't believe how their bathroom recovered its natural charm. They were thrilled with our performance and stated that it went beyond their expectations, and they were happy to have contacted us. After thanking us, they said that from that point on, they would recommend TagSiteName to everyone, and if they ever needed hard surface restoration again, they wouldn't hesitate to call us.
We take time to train our clients on how to perform proper maintenance on their restored surface. Before leaving, we gave them some recommendations and suggestions to keep the great condition of their bathroom for a long time:
Use safe, pH-neutral, soap free cleaners, which are harmless for the grout and don't leave any residue. Soap-based cleaners leave a film that seeps deep into the grout lines, promoting mold and mildew growth. Acidic cleaners, on the other hand, are harmful and can discolor the grout and break it. These types of cleaners should be avoided.
Keep the bathroom well ventilated and dry. This is important to prevent fungi growth due to the dampness of the environment. Dry the surface using a towel or a terry cloth and leave the doors open, especially after hot showers.
Try not to use bar soaps. The residues left by the soap are absorbed by the grout promoting soap scum build-up and ultimately mold and mildew growth. It is recommended to use gel soap instead. It provides an alternative that won't leave any residue harmful for the grout.
Our advanced techniques and high quality products, and these easy to follow steps are guaranteed to keep the top condition of the bathroom and provide easier and faster cleaning routines.
Are you not pleased with the condition of your bathroom and you are looking for professional assistance? Our grout sealing and cleaning services are the best choice for you. Sir Grout Charlotte provides experienced and qualified service that will make your bathroom look brand-new. As a leading company in the hard surface restoration industry, we offer the most advanced techniques to help you with your problem. Don't hesitate to contact us by calling
(704) 626-6866
or by filling out our "Request a Quote" form for a free in-home consultation. We will be glad to attend you. Also, don't forget to subscribe to our
newsletter
to receive our latest info and promotions.
If you found this article helpful then let us know in the comments section below. Likewise, feel free to share it using the share options below. Want us to cover another topic of your interest pertaining to Hard Surface Restoration? If so, then like us and follow us on social media, and post to any of our social media profiles the topic you'd like us to discuss:
Facebook Sir Grout Charlotte
,
Instagram @sirgroutcharlotte
, and
Twitter @SirGrout
.